Our software product Deepeo shortlisted for prestigious Technology Innovation Award at North Tyneside Business Awards
Our software product Deepeo shortlisted for :

prestigious Technology Innovation Award at North Tyneside Business Awards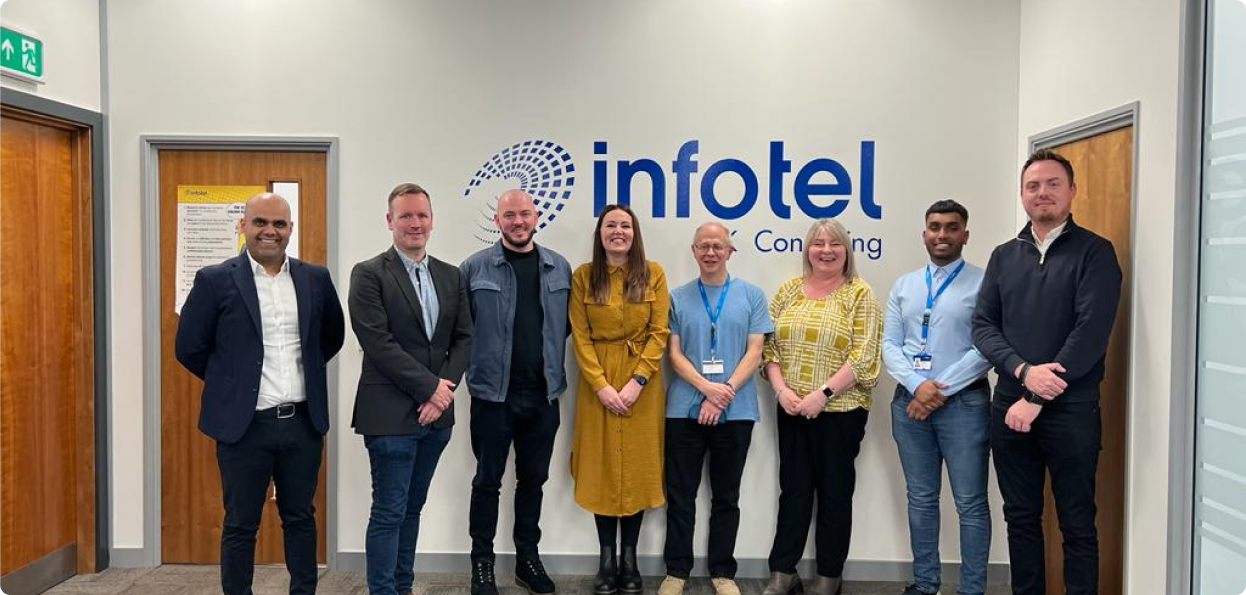 At Infotel UK, we are excited to announce that we have been shortlisted for another prestigious award. The North Tyneside Business Forum has recognised our commitment to technology innovation and has honoured us with a place among the finalists in the Technology Innovation category, sponsored by TSG. This category celebrates businesses that embrace technology and drive innovation in their respective industries.
The North Tyneside Business Awards, now in their 26th year, are an annual celebration of the remarkable contributions made by local businesses to the thriving economy of North Tyneside. These awards emphasise how our region becomes not only a great place to live, work, and visit but also a thriving hub of business prosperity.
The purpose of the North Tyneside Business Awards is threefold:
The awards showcase North Tyneside as a hub of business prosperity, both within the North-East region and beyond. This recognition not only boosts the local economy but also elevates our region's profile on a wider scale.
These awards inspire and nurture local businesses to strive for excellence. By recognizing and celebrating their achievements, they provide inspiration for continuous growth and development.
The awards bring local businesses together to collectively celebrate the success of our area. This unity fosters collaboration, networking, and a sense of community, where businesses support each other in reaching new heights.
At Infotel UK, we're immensely proud to be a part of this vibrant community and being shortlisted for this award is a testament to our commitment to innovation and excellence.
This year's North Tyneside Business Awards introduced a new category, the Technology Innovation category, sponsored by TSG. This category is designed to recognise and celebrate businesses that embrace technology and drive innovation within their industries. Infotel UK with its groundbreaking data management solution deepeo is among the shortlisted businesses in this category, and we couldn't be more delighted. It's a testament to the innovation, dedication, and hard work that we have put into our technology-driven approach. Being shortlisted alongside D-Line and Insulcon Technical is an honour in itself.
Over the course of the last week the judging panels had the opportunity to interact with the category finalists, delving deeper into our businesses and the innovative solutions we offer. They scrutinised our contributions to technology innovation and how it positively impacts our industry and the community at large.
The visits paid by Chris Wilson from the North Tyneside Business Forum management team, Stuart Byers representing the category sponsor TSG, and Rachel from North Tyneside Council to our premises were a significant step in this process. Their interactions with our team allowed them to witness firsthand the innovative spirit that drives us here at Infotel UK. It was an amazinf opportunity for us to showcase deepeo's outstanding functionalities and how it changes the data housekeeping and customer privacy problems at large.
We understand that all the shortlisted businesses are worthy winners in their own right, and the judges have a challenging task ahead of them. However, the excitement is building, and we can't wait for the big reveal. The winner in the Technology Innovation category will be officially announced on the 16th of November. It promises to be a night of celebration and recognition for all the incredible businesses that make North Tyneside the thriving community it is.
We are proud to be finalists for the Technology Innovation category at the Award. This recognition is a testament to our commitment to pushing the boundaries of technology and innovation in our industry. We look forward to the upcoming events and, regardless of the outcome, we're honoured to be a part of this dynamic business community in North Tyneside.
About the author:
Arailym O'Shaughnessy
Marketing and communications manager at Infotel UK